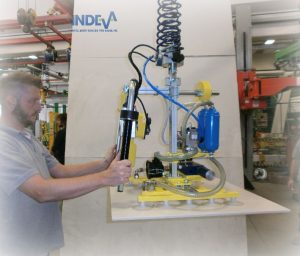 Bricks, breeze blocks plasterboard, doors, roof trusses, joists, heating and plumbing supplies, kitchen cabinets, bathroom suites, etc.  Products used in the building industry span a wide range of items, all of which start out life in one type of manufacturing facility or another.
Building supplies are often heavy or bulky – or both – and can be difficult to handle, both in a production environment as well as on site.  However in a production environment, building material handling tends to be repetitive.  This can lead to serious work-related musculoskeletal disorders (WRMSDs) to either the back, neck, shoulders and upper limbs.
Studies have shown that the introduction of an industrial manipulator for material handling tasks improves ergonomics in the workplace, significantly reducing WRMSDs whilst increasing productivity.
Bespoke building material handling
An Indeva industrial manipulator can be used to handle a variety of building materials – from large and bulky items such as bricks and plaster board to kitchen cabinets and their components. With a number of innovative and technologically advanced features, our manipulators enable operators to lift, move and place small, large, bulky, heavy or awkwardly shaped items with ease, eliminating the stress and strain on the upper body.
Regardless of what building material you need to handle, we can provide you with a bespoke solution that meets the individual requirements of your operation. Our manipulators can be equipped with a variety of lifting and gripping tools, which enables us to design a complete building material handling system for anything from glass to bricks and everything else in between.
Let us solve your material handling problems
If you would like to find out more about our advanced industrial manipulators, or would like to discuss your building material handling problems, please call us today on 01246 252333, or email info@uk-indevagroup.co.uk.