Bespoke material handling solutions for lifting and transporting paper items
For over 40 years, Scaglia Indeva has been at the forefront of the design and manufacture of innovative material handling solutions that not only increase productivity and reduce breakages, but also improve safety and ergonomics in the workplace.
We are market leaders in the development and production of state-of-the-art intelligent devices for handling, known as INDEVAs®, which have been improving production lines across the world.  With a wealth of experience across a large number of sectors, we are able to create a bespoke lifting solution to meet virtually any application, including paper production and various paper items.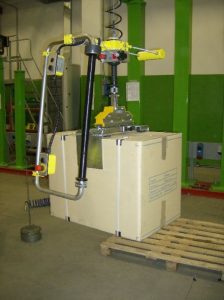 Lifting and moving paper items with ease
The INDEVA® provides several benefits over that of traditional manipulators when it comes to lifting and transporting paper items.  The auto-weight and balancing feature ensures that the load is perfectly balanced throughout the process, and with sensitive finger-tip control, operators are able to lift and manoeuvre loads of varying weights and sizes with very little effort.  This enables quick precision load placement even in the tightest of areas.
The versatility of our product range, which includes custom end-effectors to grip, turn and even flip loads, enables us to design a bespoke handling solution for virtually any type of paper product regardless of weight, shape and size.
Choose ergonomic and safe material handling solutions for your paper items  
All of our material handling solutions are designed with ergonomics and safety as a priority. Manual material handling is proven to cause Work-related Musculoskeletal Disorders (WRMSDs) such as sprains and strains to the back, neck, shoulders, lower and upper limbs.  However, the use of an INDEVA® is proven to significantly lower the risk, and even eliminate, of WRMSDs.
If you would like to discuss your material handling requirements for your paper items and products, or would like further information on our range of material handling equipment, please give us a call today on 01246 25 23 33, or email us at info@uk-indevagroup.co.uk.