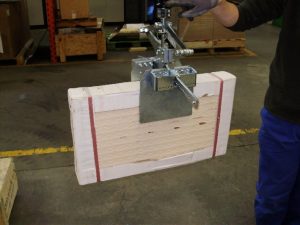 Construction products can be anything from boxes of screws to large plasterboard sheeting, each needing specific requirements during handling on production lines. For manufacturers who produce a range of construction products, a one-size-fits-all handling solution won't work.
Modern, electronic-controlled industrial manipulators are the perfect solution to handling an array of products. They can be designed with a variety of bespoke end effectors and gripping tools, making them ideal for a range of lifting and handling requirements along construction products production lines. When alternating between processes, the end effectors and gripping tools can be easily and quickly changed to enable operators to switch seamlessly between handling different products.
Reap the benefits of an industrial manipulator for your construction products handling
Industrial manipulators have a number of benefits for construction products material handling along production lines.  They enable operators to handle heavy, bulky and awkwardly shaped items with very little effort, making lifting, moving and placement tasks as easy as lifting your morning cup of tea.
They are proven to improve ergonomics and safety in any production line environment, whilst also increasing productivity and reducing product breakage.
Our industrial manipulators will improve your construction products production line.
Our industrial manipulators, known as intelligent devices for handling (INDEVAs®), have been designed to be fitted with a wide variety of end effectors and gripping tools, which enables us to create bespoke handling solutions for construction products. They can handle awkward loads, such as large plasterboard sheets, bathroom fittings, and doors easily and effortlessly, as well making light work of lifting and moving heavy items up to 320kg, such as bricks and tiles.
To find out more about our industrial manipulators, or to speak to one of our team about your construction products material handling requirements, please call us on 01246 252333, or email info@uk-indevagroup.co.uk.