PalFlex, the turnkey palletising cobot solution
PalFlex provides manufacturers with the ultimate turnkey palletising cobot solution, helping to increase productivity and drive-up efficiency while creating a safer working environment. By removing the reliance on physical and repetitive manual handling tasks, it's an easy to deploy tool that can be game-changing for manufacturers and logistics businesses.
What advantages can PalFlex bring to your manufacturing or logistics operation?
Modular and ready to use
PalFlex is a practical and ready to use solution that can quickly be deployed in your palletising process. As a modular solution, it takes the strain out of palletising boxes, cans or any other objects up to 16kg. This ease of use means that introducing PalFlex to your operation isn't disruptive.
PalFlex only needs to be plugged into a standard 220V and AC outlet to get started. It can easily be transported using a simple pallet truck.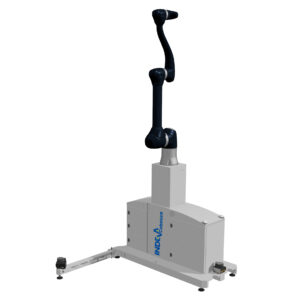 High Speed
The PalFlex has a typical operating speed of 14 pieces per minute. This applies with a maximum box weight of 8kg when PalFlex is used in non-collaborative working mode and with the multiple gripping head.
Easy to configure
Once the PalFlex is in place, it's simple to configure and use using dedicated palletising software. All it takes is a few steps to create and optimise palletising configurations, allowing you to make your palletising operations considerably more efficient and effective.
Versatile operation
The base of the unit is ballasted which gives the possibility of working without the need to anchor it to the floor. This allows for highly flexible positioning. The gripper on the PalFlex solution can be customised to the specific needs of the operation. The hand can also be adjusted to handle different shapes.
A motorised telescopic column for the cobot enables it to operate at varying heights. Different interlayers can be managed thanks to the special warehouse module. Particularly high pallets can also be managed by means of a telescopic column.
Unique software
The PalFlex comes with its own dedicated software to enable efficient and adaptable operation. The INDEVA PalFlex Configurator has product and pallet size settings, as well as a setting to allow for the most appropriate pallet design.
A collaborative solution
The PalFlex is a practical, easy to use and truly collaborative solution that can have an immediate impact on the efficiency and effectiveness of your manufacturing operation.
Call 01246 252 333, email info@uk-indevagroup.co.uk or contact us online to find out more.