Repetitive manual handling tasks in the manufacturing sector, can lead to employee injuries – known as WRMSDs (Work-related Musculoskeletal Disorders) – and therefore, absences from work. This could mean losses both in productivity and profitability.
HSE statistics for 2017/18 show that in Great Britain alone, there were 469,000 WRMSDs reported, which resulted in approximately 6.6 million working days lost. Studies have shown that the introduction of lift assist equipment such as the INDEVA® industrial manipulators, have a positive impact on ergonomic safety and productivity.
At Scaglia Indeva, we have been at the forefront in the design and manufacture of innovative solutions in manual handling since the early 1970s. Our industrial manipulators, or intelligent devices for handling (INDEVA®), enable operators to lift, move and place a wide range of loads with ease – thereby reducing the stress and strains on operators carrying out manual handling tasks.
Smooth, effortless load handling for UK manufacturing
Providing smooth, effortless load handling and precision placement of even heavy loads, the INDEVA® is proven to increase productivity, improve ergonomics, and significantly reduce, the stresses and strains placed on the operator.
One problem with some handling technology used by the UK manufacturing industry is that it is not easy to adapt to meet new processes, making handling tasks difficult. The INDEVA®, however, can be quickly and easily adapted during process changes with very little downtime in between. Added to this, the INDEVA® can be equipped with a vast range of quick and easy to change end effectors and gripping tools, making it perfect for a wide variety of material handling tasks within manufacturing operations.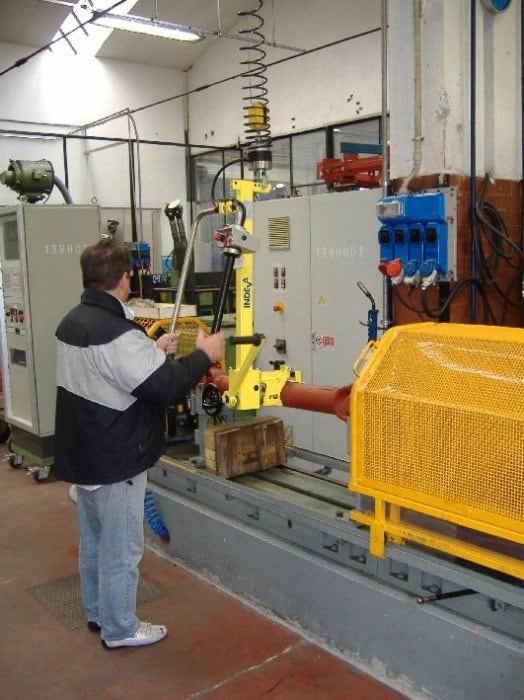 Discover the benefits of INDEVA® industrial manipulators today
Each industrial manipulator is equipped with state-of-the-art safety features. In the case of power failure, for example, a mechanical lock will prevent the load from falling. In addition, should the operator press the release button by mistake whilst the load is not in a safe position to release, the INDEVA® will slowly move down until the desired release position is reached. These features not only ensure the safety of operators, they prevent costly damage to loads, saving manufacturers money.
If you would like to speak to one of our team about your manual handling requirements, or would like more information on our industrial manipulators, please call us on 01246 252333, or email info@uk.indevagroup.com.