One of the many challenges facing modern warehouse operations today is the need to move different loads efficiently from one location to another. The loads themselves are often diverse in shape, size and weight and as different consignments are managed, there is a key need for flexibility and agility in warehouse lifting equipment that will keep operations flowing smoothly and efficiently.
The best warehouse lifting equipment solution is one that offers optimum agility and flexibility so that handling operations can be carried out as efficiently as possible with minimum disruption to other areas of operation.
Mobile lifting equipment offers an ideal and highly efficient solution for warehouses that need to keep multiple and diverse consignments moving from one area to another. Mobile industrial manipulators are used extensively within the manufacturing environment but are now finding favour in the warehouse environment thanks to their flexibility and easy manoeuvrability to wherever they are required.
Mobile warehouse lifting equipment – when you want it, and where you want it
In a busy warehouse environment, the ability to move loads safely and quickly from one location to another is paramount, so a mobile lifting device needs to be exceptionally manoeuvrable and have the built-in capability to lift different types of loads safely and securely. A lifting device may need to handle fragile items one minute or lift bagged building products the next. It could be handling multiple box sizes or an application which requires the use of a vacuum gripper.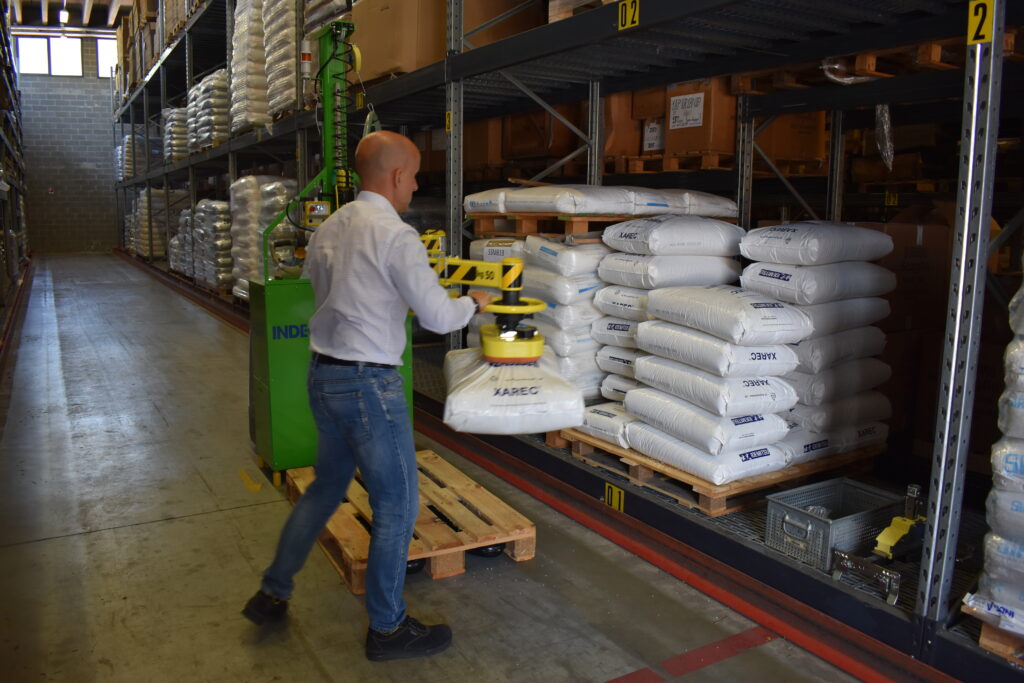 Scaglia Indeva's Liftronic® Mobile device is simply the best on the market
It is a world-beating intelligent mobile handling device that answers all the demands of a busy warehouse operation for flexibility, capability, safety, and ease of operation. It is designed to be safely and easily mounted on an electric pallet truck, with a choice of fast-change grippers for use on different and diverse load types.
Warehouse lifting equipment needs to be robust to cope with the multitude of demands in this environment and the Liftronic® is one of the most robust on the market. It is the latest innovation in Scaglia Indeva's best-in-class lifting devices; all of which are ergonomically designed to improve operator efficiency and wellbeing.
The Liftronic® Mobile is already proven in the toughest of manufacturing environments and is fast becoming the lifting device for a modern warehouse environment. It beats competitors hands down on its range of features, choice of grippers and inherent safety features with a gross load capacity of 50kg with a mechanical gripper (25kg with a vacuum gripper) and the ability for left or right-hand orientation.
Key features of the Scaglia Indeva Liftronic® Mobile
Easily mounted onto an electric pallet truck with left- or right-hand orientation.
Gross load capacity: 50kg when using a mechanical gripper (including gripper), 25kg when using a vacuum gripper (including the gripper).
Arm length: 2530mm.
Vertical stroke: 1500mm/1900mm depending on column height.
Autonomy: with a mechanical gripper, minimum 1000 cycles with maximum load weight.
Range of grippers, including vacuum where air is delivered through the arm (no pipes needed).
Easy battery replacement and easily accessible components.
Overall size: 812 x 851 x 2440/2840mm (height depends on column height).
Our Invitation to See the Liftronic® Mobile and Our Complete Range of Industrial Manipulators in the UK
In the UK, Scaglia Indeva is based in Chesterfield, Derbyshire where customers are invited to our state-of-the-art showroom to see the latest innovations in material handling technology, including the new Liftronic® Mobile. Our UK headquarters serves the needs of customers throughout the UK in automotive, building products, general manufacturing, food and drink, chemical and engineering applications.